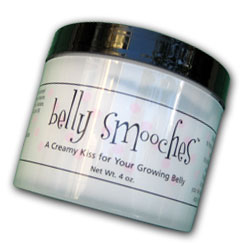 Introducing a revolutionary new pregnancy cream. "Created by Mothers for Mothers"
There is no better time to begin taking care of your skin. That's why we created belly smooches™. Belly Smooches™ is exclusively formulated to make your skin look and feel its best during pregnancy. During this amazing life-changing experience your skin stretches on average from 17 feet to a remarkable 18.5 feet. With all of the changes happening to your body, it's essential that you take special steps in caring for your skin.
Rich and creamy belly smooches™ contains soothing emollients and natural botanicals like shea butter, squaline (from olives), antioxidants, and vitamin E... all chosen specifically for their ability to hydrate the skin. Together, these ingredients give your taut, dry skin the moisture it needs during pregnancy.
Belly Smooches™ absorbs quickly and easily, and is never greasy. It is less like the honey and butter-style products on the market today. That is what makes it so unique; because of its remarkable absorption you can apply belly smooches™ and get dressed right away.
For maximum benefit, smooth belly smooches™ onto your belly, back, breasts, thighs, and buttocks twice daily.
You deserve the best, take care of your skin...take care of you.